THE ENERGY OF A WORLD-CLASS CITY
An international opera performance, hopping on a sailing adventure, taking in a blockbuster move, or cheering on a soccer game in an open-air stadium.  These are the incredible array of entertainment options awaiting you.  Best of all — they are all within walking distance.
Welcome to all that is the magic of Downtown, a neighbourhood in bustling international city, located within stunning views of the North Shore Mountains and the Pacific ocean.  And with a world-class retail experience coupled with a well-connected business district, it's no wonder that people from all over the globe come to work, play and live in this vibrant community.
If you're looking for a place that is the heart of Vancouver's energetic pulse, close to amazing entertainment options and leading business headquarters, then you'll find the perfect home in Downtown Vancouver.
History of the Neighbourhood
The history of culture and arts in the Downtown neighbourhood dates all the way back to 1886, when butcher George Black organized horse races down a muddy Granville Street. Then, in 1891 when the population of Vancouver was only about 13,000, the Vancouver Opera house opened it's doors. The 2,000 venue was built for the Canadian Pacific Railway and stayed in its original place until 1969 when it was demolished to make way for the new Pacific Centre Mall.
By the 1950s, Granville Street had an astounding 19,000 neon signs — the most of any city in the world. It soon become the focal point for entertainment in Downtown Vancouver, with movie theatres, sex shops and strip clubs of the mid-20th Century giving way to the nightclubs and retail shops of today. Granville Street was also home to Movieland Arcade, one of the last "peep show" film booths in the world.
The Granville Street bridge, in its current build today, is the third incarnation of the False Creek crossing. The first bridge was built in 1889, followed by a second bridge in 1909, and a third in 1954. Originally designed for the Canadian Pacific Railway, it was expanded with each iteration to add room for streetcars, with cars finally being allowed to cross it by the bridges second build. On Feb. 12, 1954, the first "civilian" to drive over the third Granville Street Bridge was the same woman who was first to drive over the second bridge when it opened in 1909. She had been widowed between the two openings, had a different name each time, but both times, she was at the wheel of a brand-new Cadillac.
DOWNTOWN: CITY LIVING ON A GLOBAL STAGE
People who move to Downtown Vancouver, whether it be from near or far, easily fall in love with the energetic atmosphere of a globally connected city.  It is a beautiful, sophisticated and multicultural area to live in.  Thousands of residents enjoy the daily walk to work, gladly leaving their cars in the garage for weekend adventures to Whistler.  With some of the best culinary talents and proprietors in the world, lunch and dinner are never a problem — you just have to decide where to eat with all the choices.  Then, whatever you want to do after work, whether it'd be recreation, taking transit, seeking out entertainment or just connecting with nature, you'll find all are easily accessible. And with a plethora of fantastic housing options, such as city homes, high-end luxury condos and multi-million dollar penthouses, finding the perfect home is sure to be full of excitement!
Schools In & Around Downtown
HIGH SCHOOLS
King George Secondary School
1755 Barclay St.
Vancouver, BC V6G 1K6
(604) 713-8999
Website
Entertainment & Activities
An energetic world-class city has plenty to experience.  Whether it's sports, arts, culinary, or outdoors, the choices are plenty.
Sports enthusiasts and concert-goers will love the proximity to Rogers Arena, home to the Vancouver Canucks and host to some of Vancouver's highest-profile concerts.  In the past the arena has hosted the World Figure Skating Championship, NHL All-Star Games, and Vancouver's former basketball team, the Vancouver Grizzlies.
If you're a performance arts enthusiast, but prefer a more intimate venue, the Queen Elizabeth Theatre, or the "Queen E," as it's affectionately called in Vancouver, is one of the city's premiere performance spaces for theatre, concerts and other artistic performances.  It's home to the Vancouver Opera and Ballet B.C. since its doors opened in 1959.  And it is in good company to another stellar venue called the Orpheum Theatre, which is recognized as one of the most beautiful concert venues in Canada, and is home to the Vancouver Symphony Orchestra.
In the centre of Downtown's core, you'll find the Vancouver Art Gallery.  A stunning heritage building from 1906, the gallery is one of the largest in Canada, and is currently located in the former law courts. A design for a new art gallery building was revealed in 2015 with the ground-breaking planned for 2017. Meer steps away is Robson Square Plaza, an architecturally unique urban park with an ornamental waterfall and stepped landscape.  It lives between the Provincial Law Courts and the Vancouver Art Gallery, features the Robson Square Ice Rink, and houses the downtown campus of the University of British Columbia.
Within a short walk of the gallery and square is the downtown central branch of the Vancouver Public Library.  Built in 1995, its Romanesque architecture and green roof made international headlines when it was completed, and offers access to an astounding circulation of more than 9.5 million items including books, ebooks, CDs, DVDs, newspapers and magazines. 
For those wanting to take part in sports rather than watching from the sidelines, Andy Livingstone Park is the place to go. The park features a football field, two soccer fields, tennis courts, a softball field, a skate park and 3 playgrounds. It also has quiet green spaces with a recirculated waterfall and stream.
And for those of who want to learn from some of the best chefs in the city, the Dirty Apron Cooking School is home to some of Vancouver's favourite cooking classes.  Students can choose from a wide range of classes, such as learning how to sharpen knifes, a baking class for couples, and cooking amazing meals after being taught by celebrity chefs.
Restaurants Locals Recommend
Hawksworth
801 West Georgia Street, Vancouver, BC || (604) 673-7000

This elegant restaurant in the Georgia Hotel showcases excellence in contemporary cuisine, and is a four-time winner for "Best Upscale Restaurant" by Vancouver Magazine's Restaurant Awards

Price Range: $$$$ || Food: Contemporary, Pacific Rim || Must try: Pan Roasted Scallops

Boulevard Kitchen & Oyster Bar
845 Burrard Street, Vancouver, BC || (604) 642-2900

Featuring some of the best oysters in the city, Boulevard is a modern and stylish West Coast bistro with a wrap-around patio, stunning dining room and vintage lounge.

Price Range: $$$ || Food: Seafood, International || Must try: Shrimp Ceviche
Lupo
869 Hamilton Street, Vancouver, BC || (604) 569-2525

Tucked away in a charming turn-of-the-Century house, Lupo has a cozy yet romantic ambiance in which to enjoy authentic Italian dishes that are always hand-made with locally-sourced seafood.

Price Range: $$$ || Food: Italian || Must try: House-Made Ricotta Gnocchi
Medina Café
780 Richards Street, Vancouver, BC || (604) 879-3114

A bright urban bistro, with high ceilings and a lively atmosphere, patrons flock to Medina Café to enjoy their signature waffles and Mediterranean-inspired cuisine.

Price Range: $$$ || Food: Breakfast, Brunch & Moroccan || Must try: Belgian Waffles
Things & Places Not to Miss
Start your day by heading out for a world class shopping experience on Granville and Robson Streets, or at the Pacific Centre Shopping Mall.  Then, score a few strikes with friends at the Commodore Lanes & Billiards, which has been open in the same location on Granville Street since 1930.
If you're in the mood for a boisterous night on the town, check out one of the many nightclubs in Gastown, such as the MIA Nightclub for popular hip-hop & house music, The Bourbon for country music dancing, or try out Club 23 West for psytrance.  Or, if you need a good laugh, try The Comedy Mix, which features comedians from all over North America.
Finally, take in some R&R with meditative moment at the Float House, where you can drift in darkness in a sensory deprivation tank. Proponents of floating say that time spent in the tank, which is filled with 800 lbs. of Epsom salts dissolved in water, has both physiological and psychological benefits.
Live Downtown Market Stats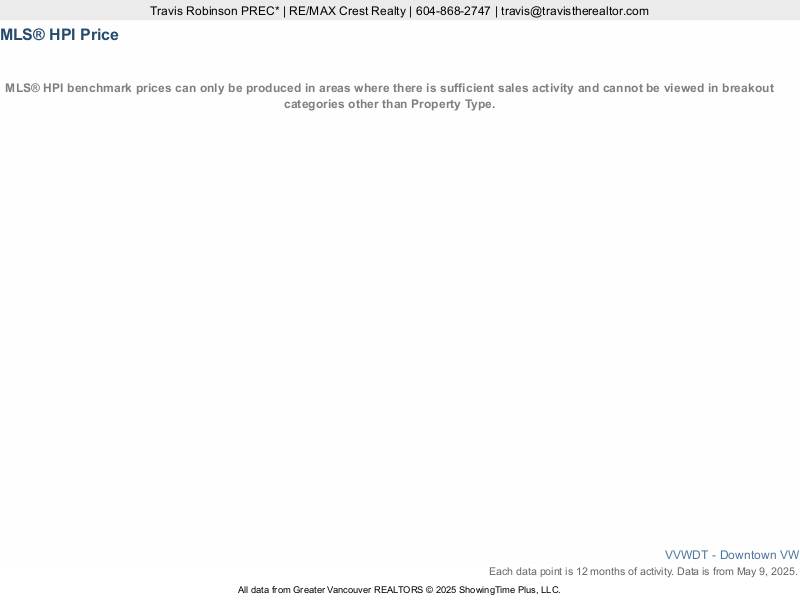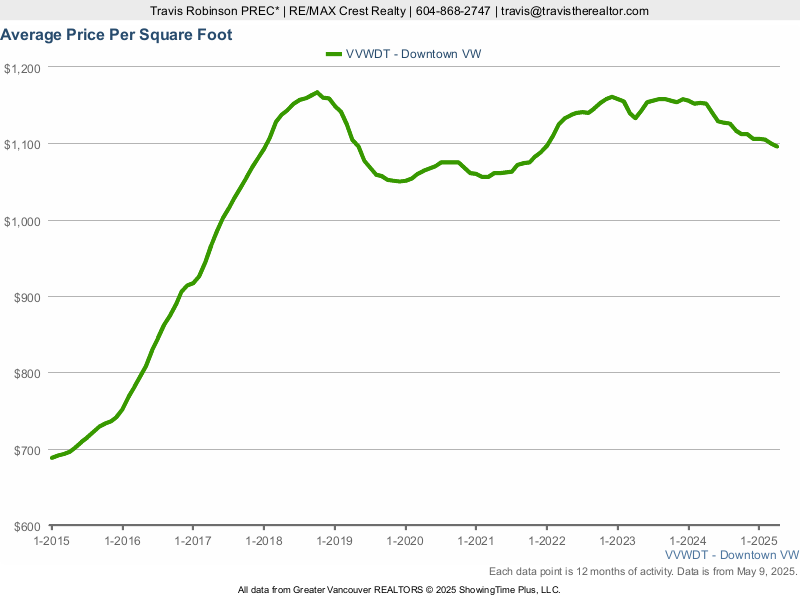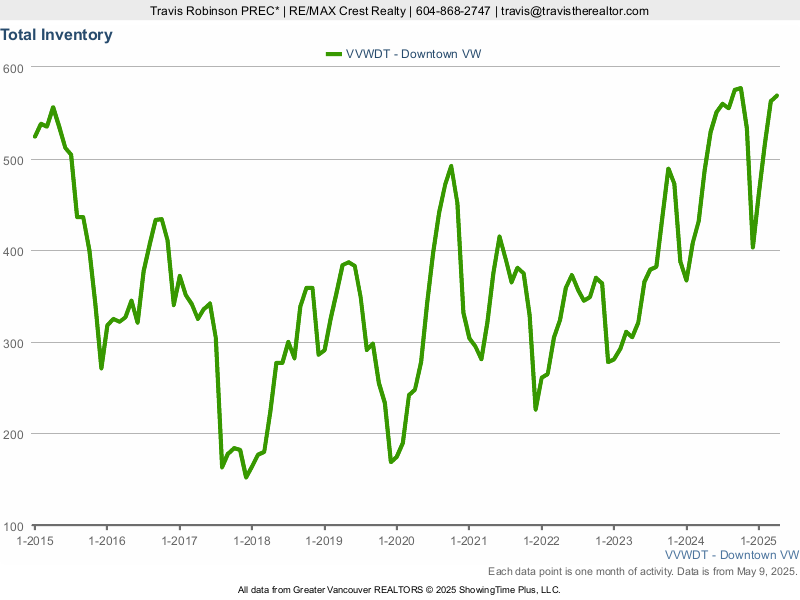 HOMES FOR SALE DOWNTOWN
Whether you're a first-time home buyer, upgrading or downsizing, Travis can help you find the home you are looking for. Browse some of the listings available in Downtown by clicking below.
Can't find what you're looking for? Contact Travis today for a no-obligation consultation and he'll help you get the keys to the perfect home in Vancouver's Downtown!