THE LAID-BACK & FRIENDLY ARTS COMMUNITY
It's the gateway to the "East Side" with a recent reputation of being the trendy and bohemian area of Vancouver. It is a culturally unique and historic community that has begun to undergo urban revitalization in recent years. And has become home to many young artists, musicians and other creatives who are attracted by its vibrant atmosphere.
Welcome to the laid-back and friendly arts community that is Vancouver's Mount Pleasant. It features an eclectic mix of young professionals, diverse families and energetic entrepreneurs. A wave of younger tenants and entrepreneurs have brought new, hip shops and services to the neighbourhood, such as skateboard shops, cycling shops, organic grocers, a handmade pie shop.
If you're looking for a place that young families adore for the affordability found here, while having access to a lively and walkable community at your front door, then you'll find the perfect home right here in Mount Pleasant.
History of the Neighbourhood
It is no surprise that an area so rich in culture, arts and Bohemian trend has its roots in Vancouver placed early on in the 1800s. The development of the Mount Pleasant neighbourhood got its start around the waterway aptly called 'Brewery Creek'. Named for the many breweries that set up along the creek to power their waterwheels in the late 1800s, the waters of the creek ran down the middle of Mount Pleasant. The flow was soon dammed and the water was funnelled across False Creek to Gaston and Stamp's Sawmill. This became the first piped water supply in the pre-Vancouver era.
Mount Pleasant's first street is still very much around today. Now known as Kingsway, it had originally been a First Nations animal trail, and the only diagonal street of its kind to break the modern grid street layout. By 1888, the vast majority of the neighbourhood's streets were named after Canada's provinces to create a local representation of the map of Canada.
The area got a drastic makeover in its land allocation during World War I, as Mount Pleasant's oceanfront land, along with the mouths of Brewery Creek and China Creek, were eliminated. This was largely due to the tidal flats of False Creek being filled in from the Main Street Bridge eastwards towards Clark Drive. The new section of land became a construction site for two large railway terminals and rail yards at the end of the great railway-building era in the mid 1900s.
MOUNT PLEASANT: A HIP, REVITALIZED GEM
With a stunning visual appeal, an eclectic mix of urban decay, and dotting of heritage buildings, it's no wonder that young families and artists love to call Mount Pleasant home. It streetscapes are full of colours and activity, with everything from bakeries, teahouses and green grocers. Cafes, restaurants and grocery stores are also just a short jaunt from your front door. Mount Pleasant's inexpensive and unconventional housing, including live/work spaces, loft apartments, and turn-of-the-century homes, go quite nicely with added bonus of being in close proximity to Downtown. And with the informal arts and tech hub south of Quebec and 2nd Avenue nearby, Mount Pleasant soon stacks up to the best of all worlds that Vancouver has to offer.
Schools In & Around Mount Pleasant
ELEMENTARY SCHOOLS
False Creek Elementary School
900 School Green
Vancouver, BC V6H 3N7
(604) 713-4959
Website
Florence Nightingale Elementary School
2740 Guelph Street
Vancouver, BC V5T 3P7
(604) 713-5290
Website
Simon Fraser Elementary School
100 W. 15 Avenue
Vancouver, BC V5Y 3B7
(604) 713-4946
Website
Queen Alexandra Elementary School
1300 E. Broadway
Vancouver, BC V5N 1V6
(604) 713-4599
Website
PRIVATE SCHOOLS
Saint Patrick Elementary School
2850 Quebec Street
Vancouver, BC V5T 3A9
(604) 879-4411
Website
Saint Patrick Regional Secondary School
115 East 11th Avenue
Vancouver, BC V5T 2C1
(604) 874-6422
Website
St. Francis Xavier School
428 Great Northern Way
Vancouver, BC V5T 4S5
(604) 254-2714
Website
Entertainment & Activities
With such a large artistic community filled with young families, Mount Pleasant goes the extra mile in having a wide array of after-work activities to take in.
Start the weekend morning at the Mount Pleasant Community Centre.  With a branch of the Vancouver Public Library there, a gym, fitness centre, dance studio, climbing wall and day care, you've got more options than just hopping on the treadmill to start your day.  In the afternoon, head over to Science World at the Telus World of Science.  One of Vancouver's premier destinations, this icon of the 1986 Expo was build by renowned architect R. Buckminster Fuller, and its geodesic dome is easily spotted as Vancouver's landmark.  While here, checkout the 5-story highs creek that is the Omnimax Theatre, UBC's Living Lab, and the ever-popular Science World After Dark which features adult-only programming.
Once the little ones are tucked in for the night and in good care of a local babysitter, check out some of Mount Pleasant's craft beer microbreweries.  With 33 acres, Main Street Brewing Company, Brassneck Brewery, and Steel Toad Brewery nearby, a walking tour of these fine establishments will get you in the mood for some fine entertainment.  With that in mind, The Fox Cabaret is a popular venue for live bands, DJs, and dance parties, and the Fortune Sound Club hosts up-and-coming and celebrated musicians in a renovated historic venue. 
For the historic part of Mount Pleasant known as Chinatown, take in the Dr. Sun Yet-Sen Classical Chinese Garden.  Built in 1986 by fifty-three master craftsmen from China of 950 cares of traditional material, it serves as a quiet, green oasis in the heart to the city. Visitors to the garden can walk the pathways that wind around the jade green koi ponds, gazebos and miniature trees.  And every February, the Chinese New Year celebration draws more than 50,000 spectators and 3,000 performers to Chinatown. It includes traditional Chinese ceremonies, performances, a parade, fireworks, and is the place to see the largest troupe of traditional Chinese lion dancers in Canada.
Finally, for those who are most outdoor enthusiasts, Hinge Park is a beautiful and striking blend of urban and ecological design.  Its waterfront location features sculptural and play structure elements reminiscent of the area's industrial heritage.  The Dragon Zone Paddling Club runs off the dock between Creekside Community Centre and Science World. From this stunning location, they offer programs for dragon boat paddling, as well as for kayaking and canoeing. Not only do they run programs for individuals, they also train corporate and school teams.
Restaurants Locals Recommend
Burdock & Co.
2702 Main Street, Vancouver, BC || (604) 879-0077

A cozy and rustic restaurant with a communal table as its centerpiece, Burdock & Co. features ingredients sourced from local farms and urban gardens.

Price Range: $$ || Food: Organic, West Coast || Must try: Crispy Fried Chicken

Nuba
146 East 3rd Avenue, Vancouver, BC || (604) 568-6727

Nuba focuses on healthy, fresh and delicious Lebanese fusion meals in a contemporary setting inspired by 1970s décor.

Price Range: $$ || Food: Lebanese || Must try: Najib's Special: Crispy Cauliflower Tossed with Lemon and Sea Salt
Bao Bei Chinese Brasserie
163 Keefer Street, Vancouver, BC || (604) 688-0876

Sophisticated and delicious, Bao Bei is the place for modern Chinese cuisine, and holds the award as one of 'Vancouver's Best Restaurants' in numerous publications.

Price Range: $$$ || Food: Modern Chinese, Fine Dining || Must try: Creamy Prawn & Chive Dumplings
Zipang Provisisions
181 East 16th Avenue, Vancouver, BC || (604) 874-5173

Zipang is a Main Street favourite that serves up creative dishes combining Japanese cuisine with west coast influences.

Price Range: $$ || Food: Japanese Fusion || Must try: Barbecued Salmon Cheeks
Things & Places Not to Miss
Visit the The Birds by Myfanwy MacLeod, a public art piece that consists of two giant 16-foot tall, 4,200-pound sparrow sculptures on either side of the Olympic Village Plaza.   While you're there, take a stroll along the Olympic Village Seawall. You'll find something new around every corner, like a giant set of stone steps leading into the ocean, an ultra-modern pedestrian bridge, or spinning metal chairs that give you a 360 degree view of the city.
For vinyl lovers, browse one of Main Street's independent records shops such as Dandelion Records or Neptune Records. Go on an adventure—rent a motorcycle or scooter from Cycle BC on Quebec Street, and while on your scooter, drop in on an indie craft fair at the Heritage Hall on Main Street. And cap off your day by going for a picnic at Dude Chilling Park! Originally the name was a prank, until the City of Vancouver decided to make the name official.
And for serious music enthusiasts, the Jimi Hendrix Shrine is an intriguing destination in Chinatown.  The shrine to the rock star is located at the site of a former restaurant, called Vie's where Jimi Hendrix's grandmother, Nora Hendrix, worked. During his visits with his grandmother, Jimi helped to serve musical greats that had performed at the restaurant, like Nat King Cole and Louis Armstrong. A visit will allow you to view memorabilia of Jimi Hendrix's life, as well as the neighbourhood's history.
Live Mount Pleasant Market Stats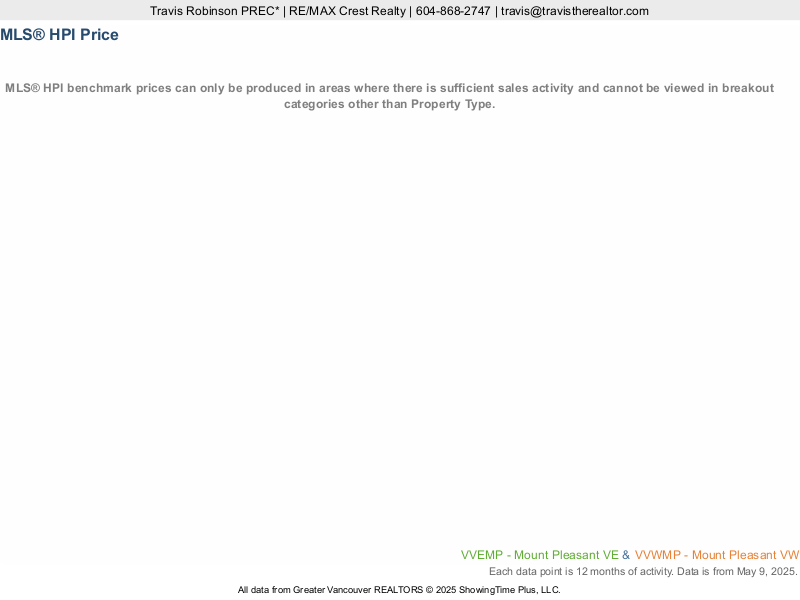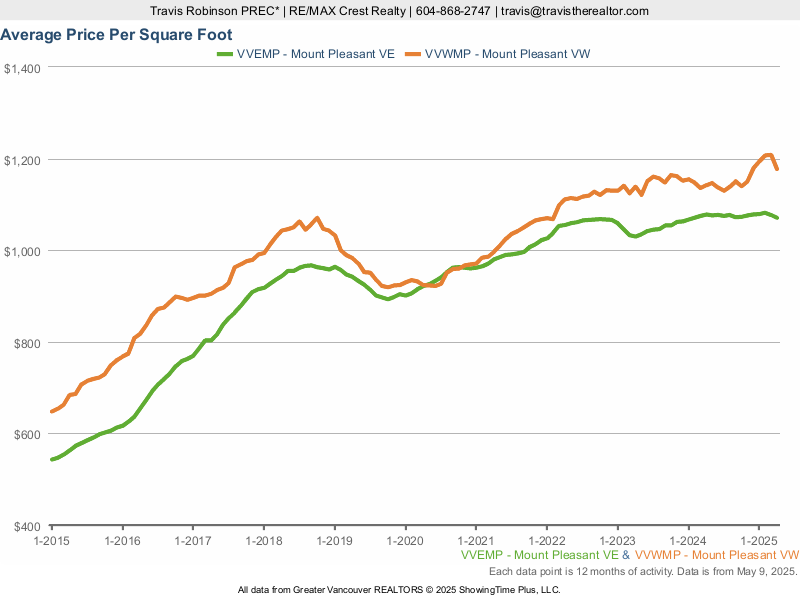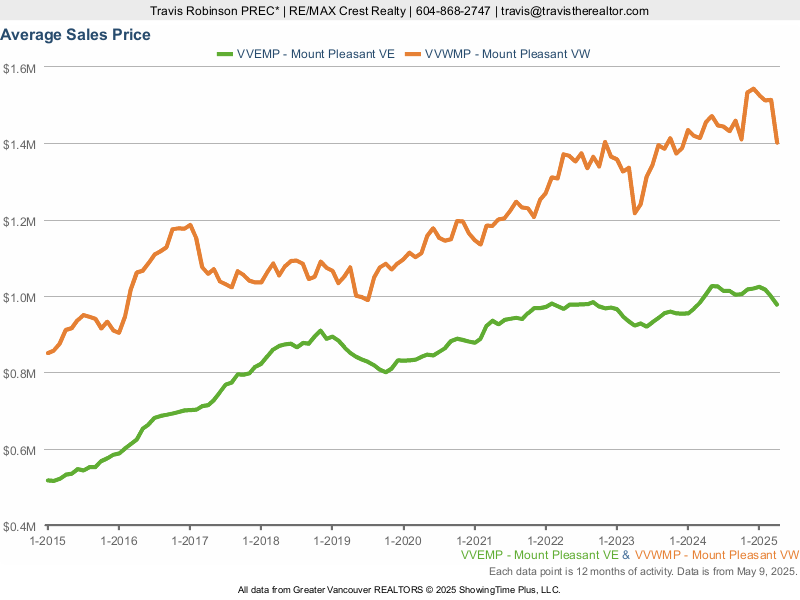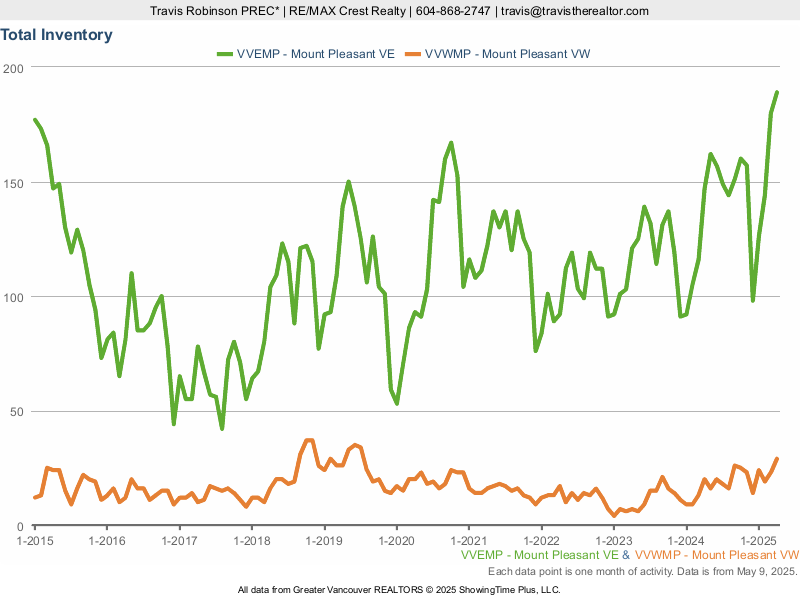 HOMES FOR SALE IN MOUNT PLEASANT
Whether you're a first-time home buyer, upgrading or downsizing, Travis can help you find the home you are looking for. Browse some of the listings available in Mount Pleasant by clicking below.
Can't find what you're looking for? Contact Travis today for a no-obligation consultation and he'll help you get the keys to the perfect home in Vancouver's Mount Pleasant!